London, 10th June 2021: Global audio specialist, Mixcder, is today pleased to announce the launch of the G1 true wireless earbuds. With improved portability and impressive functionality, the 2-in-1 G1 earbuds have been designed to improve users' gameplay experiences across some of the most popular consoles, including PS4, PS5 and Switch Lite and are now available to purchase from Amazon for £69.99. Thanks to the Bluetooth capability, the G1 can also be used with mobile phones like normal earbuds.
The unique 2-in-1 premium design of wireless earbuds and a compatible type-c adapter, paired with the built-in Qualcomm chip, ensures a stable connection and reliable performance without the additional cost of a separate adaptor or wireless accessories which are usually needed to connect existing earbuds to consoles and controllers. The G1 earbuds also have a built-in PixArt chip with 60ms ultra-low latency technology, which effectively reduces sound delay and any audio lags, enabling users to maintain complete focus in Fortnite battles and multi-player matches on FIFA.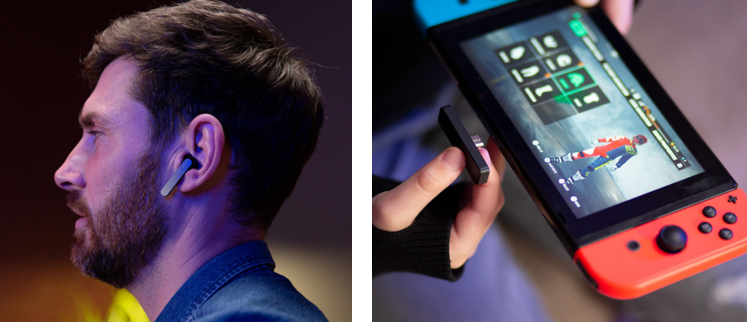 The earbuds and adapter can be charged securely in the included charging carry case with an attractive design to resonate with players which is inspired by the Nintendo Switch console. The 400mAh charging case provides an impressive 25 hours of playback time, with each earbud holding 5 hours of play time per single charge – ideal for long gaming sessions and tournaments! With two separate colourways of black and grey or blue and red, there is an option to suit all gamers of all ages.
Using the type-c adapter, users can connect the earbuds to an impressive range of popular consoles, including PlayStation and Nintendo Switch models. The lightweight earbuds boast a sleek, semi-in-ear design that is both comfortable and durable, with added smart touch controls that can be used to pause/play music and answer/decline calls. When the wireless adapter is successfully plugged in and connected to a console with voice-to-call capabilities, users can also communicate with friends and new players through the integrated microphone, by simply double clicking the multi-function button.

Whilst the G1 earbuds have been designed for console players and offer excellent functionality and portability for gamers with an innovative 2-in-1 design, the earbuds can also be used with PCs and mobile phones with USB-C connections, making them a great option for day-to-day use, listening to music and taking calls on the go.
High resolution images of the Mixcder G1 earbuds are available HERE.
The Mixcder G1 earbuds are available to purchase from Amazon in Black/Grey or Blue/Red for £69.99.

Product specifications:
Connectivity technology: Wireless
Wireless communication technology: Bluetooth
Brand: Mixcder
Colour: Black/Grey, Blue/Red
Form factor: In Ear
Control type: Call Control
Cable feature: Detachable
About Mixcder:
Originating from America, Mixcder is a modern audio brand that integrates both technology and art into its products. Mixcder's products range from earphones and loudspeaker boxes to various audio accessories. Mixcder's products are specially designed for modern and fashionable young people and music enthusiasts. The product design is full of vigour and vitality and represents the youth's beliefs of pursuing their dreams, enjoying life and moving forward.
Mixcder's brand culture is characterised by the lifestyle: "Join and enjoy. Join together and enjoy together". Full of magic, music, with its beautiful melody and rhythm, can boost our mood, intensify our taste and make us feel the beauty of life. Mixcder is continuously striving for excellence and innovation by creating audio products that aim to restore the essence of music, fill people with vitality, and the world with sunshine.
Find out more about Mixcder by visiting the website: www.mixcder.com