London, 9th December 2021: Leading digital lifestyle accessories brand, Trust Electronics Ltd, is pleased today to introduce its Teza 4K Ultra HD Recording Webcam. An affordable 4K UHD webcam for recording and working from home, the Teza features better depth perception, a higher-definition image, vibrant colours and is available from Amazon now for £119.99.
With the increase in home working following COVID, the Teza 4K Ultra HD webcam is an ideal option for high-quality business calls with a 74° diagonal field of view and two integrated microphones. The 4K UHD resolution (3840×2160) enables the Teza to capture vibrantly coloured, high-definition video at 30 frames per second and with better depth perception for crystal clear video calls. A built-in stereo dual microphone also records high-quality audio, picking up clear sound from multiple directions.
With full autofocus, the lens does all the hard work to ensure a crisp and clear picture as if the caller was in the same room. The Teza also features white balance and backlist compensation for the best possible image quality. The webcam is also incredibly easy to set up thanks to its plug and play design with the included USB-A to USB-C adapter which widens the webcam's potential, making it compatible with most laptops and PCs.
Additionally, the Teza webcam package includes a tripod for perfect placement on a table or desk, whilst the attachable privacy shutter provides security, meaning the user is always in control of what is visible.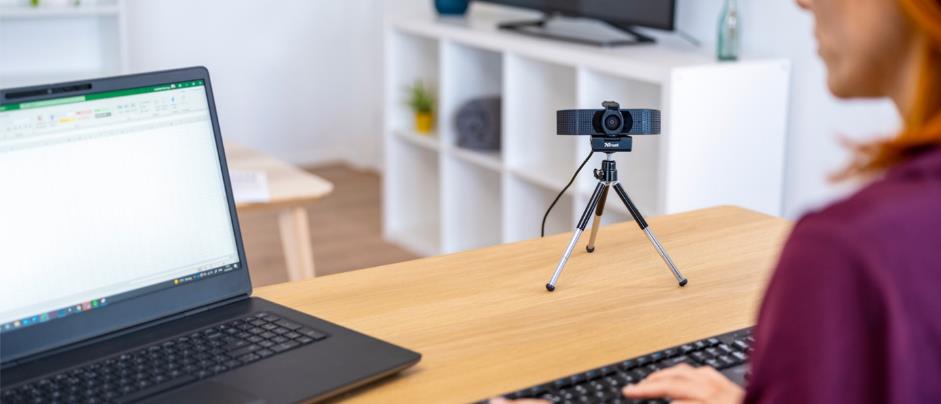 The Trust Teza 4K Ultra HD Recording Webcam is available from Amazon now for £119.99.
For more information, please visit the Trust Website
The key features
Crystal-clear video calls in 4K Ultra HD resolution at 30 frames per second
A 74° diagonal field of view and autofocus
Automatic white balance and backlight compensation for the best possible image quality
Two integrated microphones with up to 5m range
Full duplex allows for uninterrupted 2-way conversation
Connects via detachable USB-A to USB-C cable for ease of use and a fast connection (USB-C adapter is included)
The Trust Home & Office range aims to cater for every need at home and at the office, adding comfort to busy lifestyles. Apart from webcams, Trust also provides wireless mice, smart multimedia keyboards and laptop stands; all of these can be used from the comfort of a couch or office chair.
About Trust International
Trust International is the one-stop brand for digital lifestyle accessories. We are a global company on a mission to simplify everyday life with clever solutions. Our broad assortment covers quality products at an affordable price, to fulfil every need around the house, in the office and on the go. Whether it's for your laptop, gaming device, tablet, desktop, smartphone or TV, discover all of our lines – including Trust Home & Office, Trust Mobile, Trust Smart Home and Trust Gaming.
Visit www.trust.com for more information