Seattle, 01 April 2021 – Publisher tinyBuild are proud to announce that Totally Reliable Delivery Service — enjoyed by over 14M players worldwide — launched on Steam alongside the major "Totally Delivered" update today. With improved graphics and world density, a new Arena mode, improved controls and an overhauled UI, Totally Reliable Delivery Service has received a massive revamp on all platforms!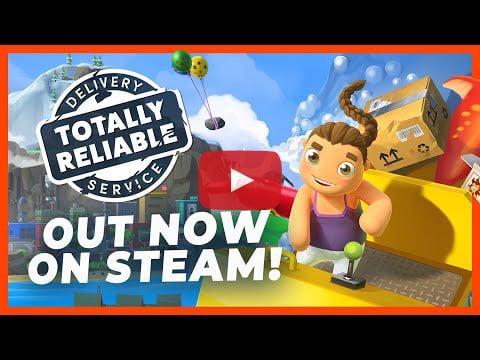 New Features:
1. Improved Graphics, New Character Facial Animations And Revamped UI – A World Rebuilt To Explore
The Totally Reliable map has a new look now! From environmental elements like fountains and snowy mountains to the buildings standing in Downtown, everything has been updated with refreshed and more dynamic visual assets. In the meantime, the bond between you and your little drivers can only get stronger as they have vivid facial expressions now! Read their mood before rushing them into another mission, they're sure to appreciate that!
2. New Competitive Arena Mode – Hovercraft Derby
Fierce competitions are common in the delivery industry and you're a part of that now. Start your hovercrafts on a floating platform and confront fellow drivers to push them off the edge. The platform will break piece by piece as time progresses and (needless to say) the goal is to be the last delivery man standing!
3. Major Network Improvements And Simplified Controls – The delivery business is getting smoother!
We've made a lot of adjustments to our networking systems to improve the player's experience since the initial release. Our top priorities have always been to smooth out lag and lost data errors on the network, but we also overhauled the control scheme to make your deliveries easier and faster!
Learn more on the Steam Page:
About the game
Totally Reliable Delivery Service is a ragdoll physics-driven sandbox game that up to 4 players can enjoy together. Work together (or against each other) to deliver packages to customers using a variety of vehicles and odd machines. Safe deliveries are rewarded, but mayhem is highly encouraged! Totally Reliable Delivery Service launched on PC, Xbox, PlayStation, Nintendo Switch, and mobile on April 1, 2020, and since then has amassed 14M downloads.
About tinyBuild
tinyBuild is a Seattle-based indie label that has launched over 40 titles since being founded in 2013, including the Hello Neighbor franchise, Graveyard Keeper, Speedrunners and Party Hard. tinyBuild currently has 23 more projects in development, and seven development studios.