Leading webcam manufacturer, Papalook, is pleased to announce the launch of the PA930 streaming webcam. Following the great success of the existing range of webcams, the PA930 offers the impressive functionality and sleek design that is now expected from Papalook products, for an incredibly affordable price. With a high-dynamic range (HDR) image, 2K resolution and integrated dual omni-directional microphones, the webcam is ideal for both business use and live streaming, and is available from Amazon.co.uk and Amazon.com for £69.99/$69.99.
The Papalook PA930 webcam is equipped with professional HDR technology that ultimately improves video performance by adjusting the brightness and contrast and expanding the colour gamut; better reflecting the environment and providing a realistic image. The camera is able to record and capture in an impressively high resolution of 2K at 30FPS and Full HD 1920*1080P at 60FPS. Users can easily adjust the frame rate by pressing the button located at the top of the webcam, which supports switching between 30FPS and 60FPS.

Stable video and image quality is also guaranteed due to the built-in 90-degree wide angle fixed focus lens. This feature ensures that the camera can obtain more light using a larger aperture, providing improved, less distorted picture quality even in low-light environments, in comparison to many competitor products with zoom lenses.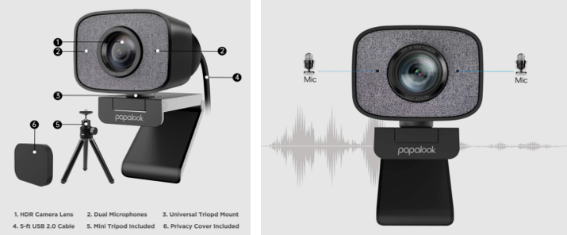 Alongside exceptional video quality, the PA930 is equipped with integrated dual omni-directional microphones, designed to pick up sound from all angles. Coupled with noise reduction technology and echo cancellation, background noise is effectively minimised, ensuring that crystal clear sound is captured. Users can speak into the microphone from any direction, with no negative effects on the overall sound quality.
The PA930 has been designed with the ultimate user convenience in mind with a simple USB 2.0 plug and play functionality and no additional drivers required. The webcam also features a privacy cover providing peace of mind and increased security.
Users can enjoy a seamless online video experience using Windows, Mac, Android and Chrome, and can easily connect to popular video calling software such as Skype and Zoom. For streamers looking to enhance their live broadcasts, the PA930 boasts universal compatibility with the most popular platforms, so late night streaming has never been easier.
The Papalook PA930 can simply be attached to a PC monitor or the edge of a laptop screen using the foldable clip, placed on a desk or attached to the tripod included in the box. The design of the clip means it is easily adjustable and flexible, so the view of the camera can be quickly altered as required.
The Papalook PA930 is available from Amazon.co.uk and Amazon.com for £69.99/$69.99
Product specifications:
Lens F/No: 2.0
Lens Material: Glass
Viewing Angle: 90°
Focus: Fixed Focus (90cm)
Frames: [email protected]; [email protected]
MIC: Built-in stereo and noise cancelling
S.P.L: 36±2dB
Directivity: Omni-directional
Interface: USB 2.0
Supports: OS Windows XP/7/8/10 and above; Mac OS 10.6 and above; Chrome OS; Android v5.0 and above
About Papalook:
Papalook is committed to researching and developing innovative audio-visual technology and producing products that make communications seamless and user-friendly. Papalook provides "Better Video Quality" for generations of savvy webcam users, past, current, and future. For more information, see the website at: www.papalook.com